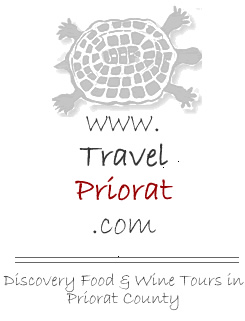 WINE TOURISM - Catalan Travel Agency
TRAVEL PRIORAT
Tel.: (+34) 637 468 067 / 659 449 974 
C/e: info@travelpriorat.com
www.travelpriorat.com/
Registry # GC-4397
We are based and specialise in the Priorat region and its two wine appellations: DOQ Priorat and DO Montsant. We know and are very well known by the local winemakers and restaurateurs, which enables us to open doors that remain firmly closed to other visitors and offer unique experiences to our clients.
PRODUCTS/SERVICES

We provide the following services:

Language services: 
Translation service (Catalan-English, French-English, German-English and Spanish-English and vice versa: English-Catalan, English-Spanish, English-French and English-German). Our team is made up of a Catalan/Spanish native speaker, an English native speaker, a German native speaker and a French native speaker.

Guiding Services: 
We offer bespoke guided tours around the Priorat county as well as the greater Tarragona province. Our tours are tailor-made for wine enthusiasts, foodies and also for a select group of food and wine professionals. All our tours are accompanied by a knowledgeable native English speaking local guide, who is well versed in wine and olive oil production, as well as the history of the region. Tours can be leisurely hiking tours or privately driven tours and can last from as little as 2 hours to several days, depending on the visitor's needs and interests. For example:

- Two hour history and tasting tour of Falset (capital of Priorat county) (min. 4 people).
- One day guided Priorat wine tour (includes 2-3 carefully chosen wineries).
- One day guided Priorat food & wine tour.
- Two day guided priorat food & wine tour.
- Three day guided Priorat & Montsant food and wine tour.
- Five day guided Priorat, Montsant, Terra Alta, Conca de Barbarà, Tarragona and Ebro Delta food, wine & history tour.

We can also provide a similar service to wineries in the area: either a winery guide on a part-time basis or as an interpreter for important winery visits (ie. for importers, sommelier or journalist visits).

Tasting Services:
We offer guided wine tastings or olive oil tastings (or cheese, hazelnut or eau de vie/distillate tastings), given by experts in their field: with either a trained local winemaker or an official olive oil taster. This service can be offered in the following languages: English, French, Spanish and Catalan, as well as German. We also offer a beginners level wine tasting session which lasts 2 hours. These services can be offered at local hotels and guest houses or in local wineries or restaurants, or in our beautiful stately home located in Torroja del Priorat.

Event Management: 
We provide bespoke services for local companies and wineries as well as national and international companies, who wish to visit the Priorat region to promote their brand or to reward employees (incentive trips). We offer these services from our base in Torroja del Priorat at the very heart of the Priorat winemaking appellation or from wineries in the area. Services include: trip planning, room hire, concert organisation, breakfast meetings, conferences and meetings for small to medium sized groups, wine tasting events etc….