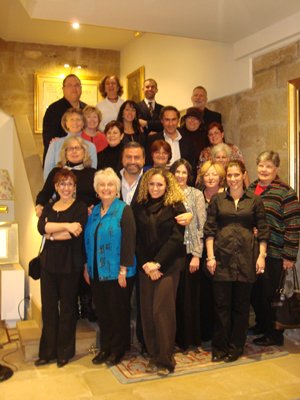 Turisme de Catalunya - New York and the Costa Daurada Tourist Board hosted the group who were accompanied in the Priorat by a tourist office guide as well as a Catalan official guide and Virginia Irurita, founder and co-owner of Made for Spain.
(www.madeforspain.com
). All participants are members of the luxury travel network run by Virtuoso Life in New York, whose director of Sales and Marketing, Mauricio L. Leyton was also present throughout the tour (
www.virtuosolife.com
).
On 9th  November, the group spent a full day in the Priorat where they visited Costers del Siurana (Clos de l'Obac) winery in Gratallops and the Carthusian Monastery of Scala Dei. They also enjoyed a tasting menu in Cellers de Gratallops restaurant. This familiarisation trip was not solely based on wine and wine tourism. It was also an opportunity for the tour advisors to see other tourism aspects of the Priorat. The travel agency, Made for Spain is currently offering luxury tours to the Priorat. For more information, please consult their website cited above.