Bisbal de Falset, la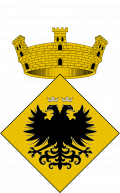 Contact
Ajuntament de La Bisbal de Falset
C/ La Palma, 4
43372 La Bisbal de Falset Tarragona
Spain
Phone number
(+34) 977 819 012
Opening hours:
Monday - Friday: 8:00 a.m.-2:00 p.m.
Monday: 8:00 a.m.-2:00 p.m. + 3:00-6:30 p.m.
Information
This village is to be found in the extreme north-east of Priorat county in the Montsant river valley, perched on the top of a big rock.
Municipal swimming pool, football pitch, sports area, three country guest houses, caming area near Santa Llúcia cave, and farm shop. 
Extra virgin olive oil, cured hams.
On the second Sunday of August the village gathers in Santa Llúcia cave for traditional dancing. On 8th September, during the " Festa Major" there is more dancing, traditional "Sardanes" (Catalan dance) and games for children. 
The cave of Santa Llúcia is 1.5 km outside of the village on the road to Flix. There is an image of the virgin and a natural spring which is considered to be good for healing eye ailments. During the Battle of the Ebro (1938) it was used as a military hospital by the International Brigades.
Along the river Montsant, shortly before entering the village, one can see the remains of the Molins de Lliura [pound mills]. On carrer Major [main street] there stands out the Església de la Nativitat [church of the nativity], in neoclassical style with some barock elements. From the Metge Curçó and Enric Ventosa streets one has got breath-taking views of the valley and the Montsant massif. The area of La Bisbal contains very beautiful natural sights, such as the Cova Emboixa and the Cova Foradada [caves]. One can do outings into the Montsant on the many paths around the village, e.g. on the old trail to Cabacés.
 
You can reach the village from Falset on the  T-710 and T-702 (Cabacés), from Les Garrigues via the C-242 and T-713 (Margalef), from Flix via the T-702 and from Móra la Nova via the C-230 and T-714 (Vinebre and La Torre de l'Espanyol).