Cornudella de Montsant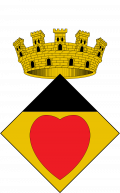 Common term
Cornudellencs
Contact
Ajuntament de Cornudella de Montsant
C/ Comte de Rius, 10
43360 Cornudella de Montsant Tarragona
Spain
Phone number
(+34) 977 561 416
Opening Hours:
Tuesday - Friday: 9:00 a.m.-2:00 p.m.
Wednesday: 9:00 a.m.-2:00 p.m. + 4:00-7:00 p.m.
Saturday: 11:00 a.m.-1:00 p.m.
Information
Cornudella is to be found in the North-eastern corner of the county, in the Siurana river valley, between the Montsant and Prades mountain ranges.
The village has a Tourist Information Office, football pitch, municipal swimming pool, multi-purpose sports ground, meeting house, theatre, library and telecentre, gymnasium, 5 rural guest houses (two of them outside village), a private mountain shelter, four restaurants (one 4 km outside village), Medical centres (CAP), petrol station, a farm produce shop and Peris-Aragonès museum.
The "Fira d'Artesania i Jornada Gastronòmica" (Craft Fair and Gastronomic event) is held one Sunday in May (every year, it tends to move weekend) and takes place in Plaça dels Cellers (Winery Square). The same day in the morning, there is a traditional breakfast at Sant Joan del Codolar hermitage. The "Fiesta Mayor" takes place on the third weekend of August and includes dancing, processions of giants, sea shanties and sports events. ON 17th January for Saint Anthony's Day, people gather to honour their animals and there is a popular lunch at the hermitage of Sant Joan del Codolar. 
A Siurana destaca la festa del Jubileu, el dia 9 de maig, data en què té lloc una commemoració religiosa on s'apleguen els fidels de tots els pobles del voltant per demanar aigua a la Verge. La Festa Major és el dia 15 d'agost.

La Festa Major d'Albarca és també al voltant del 15 d'agost. És tradicional la pujada a l'ermita de la Mare de Déu del Montsant l'últim dia de la festa.
Cornudella boasts an Art Nouveau cooperative wine celler built in 1919 by Cèsar Martinell, student of Gaudí as well as a Renaissance church dedicated to Saint Mary.

The Peris-Aragonès museum is a private collection of various objects from all over the world.
(Please book your visit to the museum through the Tourist office in Cornudella. Tel: (+34) 977 82 10 00.)


The hermitage of Sant Joan del Codolar lies at the foot of the Montsant Mountain Range. One can also take part in water sports, such as canoeing and kayaking  on Siurana reservoir as well as following various hiking trails. 

Albarca is a small village which forms part of Cornudella de Montsant. It has an interesting Romanesque church and also a guest house and mountain shelter. The "Festa Major" is the 15th August.

Siurana is also part of Cornudella de Montsant. It has two restaurants, a hotel, two country guest houses, a bar, a camp-site and an official mountain shelter. 

Amongst other points of interest, there is the Romanesque church of Santa Maria. It is a  beautiful example of Romanesque architecture which was built between the 12th and 13th centuries after the arrival of Berenguer IV troops in 1153. At that time, Siurana was an important stronghold in the line of defence between the Moorish and Christian kingdoms and in fact was the last stronghold to fall in Catalonia.  The church displays a perfectly conserved Romanesque sculpted doorway. The building is usually locked, but can by visited by phoning (+34) 977 821 450.

In the former priest's house, there is a small museum with diverse objects, found in the village, posters of the "Jubileu" and paintings of the hamlet (normallly this is closed. Visits may be requested (+34) 977 821 450).

Siurana also conserves remains of the Moorish castle, the military buildings or "hisn" which were built around 9th century as a control centre. They belong to an extensive territory dominated by the Moors and located in a strategic position of defence at the entrance to the village. The conquest of this castle by  Ramon Berenguer IV was planned before those of Tortosa and Lleida, but was not completed until 1153.Once conquered, it was passed to Bertran de Castellet and later on to Albert de Castellvell. It served as dowry for the Catalan royalty, to guarantee pacts amongst other functions.

The "Salt de la Reina Mora" or Moorish Queen's Last Leap is a famous cliff, made so by the last Moorish Queen Abdelazia, daughter of  the Valí de Siurana. The legend tells that when the Christian troops took Siurana, the Queen preferred to cast herself and her horse off the cliff to their death rather than fall into the hands of the enemy. The horse, people say, tried to stop itself from falling over the precipice, but its efforts were in vain. Nowadays visitors can see the deep hoof print in the rock at this emblematic site. 

Siurana offers wonderful views towards it internationally famous rock-climbing areas as well as glorious views over the Montsant Natural Park. 
Cornudella can be reached from Falset via the N-420 as far as Coll de la Teixeta and then via Porrera on the TP-7401 and from here the Venta d'En Pubill via TP-7402, continuing as far as Cornudella via the C-242; from Reus via the N-420 as far as Borges del Camp iand via C-242 as far as Cornudella, and from La Granadella via C-242, via Ulldemolins.